Abdelhamid Idrissi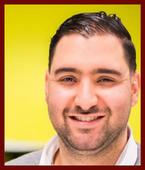 Abdelhamid Idrissi is professor of practice, Diversity & Inclusion at the Amsterdam University of Applied Science. studied Architecture at the AUAS and grew up in Amsterdam Nieuw-West, where he started the first Study Hall , for which he received the Audience Award of the New Amsterdam Awards in 2021 . Abdelhamid Idrissi was elected Amsterdammer of the Year in 2018 , he is a social member of the NPO of OC&W, a member of the program council of the Knowledge Center for Inequality of Inequality (Municipality of Amsterdam) and a leading social entrepreneur .with a broad vision for the city.
 
Studyhall as a means of combating inequality
Abdelhamid Idriss will speak about various neighborhood projects that try to combat inequality of opportunity. Especially he will focus on his Studiezalen project, a place where young people from vulnerable neighbourhoods can make their homework in a quit environment. Also Studiezalen provides homework help and lifecoaching. At this moment there are 47 studyhalls and 1.400 children weekly.
ECSWR2022

Registration website for ECSWR2022
UvA Conferences & Eventscongres@uva.nl
UvA Conferences & Eventscongres@uva.nlhttps://www.ecswr2022.org
2022-04-06
2022-04-08
OfflineEventAttendanceMode
EventScheduled
ECSWR2022ECSWR20220.00EUROnlineOnly2019-01-01T00:00:00Z
Sea Palace (conference dinner)Sea Palace (conference dinner)Oosterdokskade 8 1011 AE Amsterdam Netherlands